Islamic Development Bank and partners launch the Lives and Livelihoods Fund 2.0 to support economic development across 32 member countries
Jeddah, May 13, 2023 – The Islamic Development Bank (IsDB) and its development partners, the Abu Dhabi Fund for Development (ADFD), the Bill & Melinda Gates Foundation (BMGF) and the Islamic Solidarity Fund for Development (ISFD) today announced the launch of the second phase of the Lives and Livelihoods Fund (LLF 2.0) on the sidelines of the IsDB Annual Meetings 2023.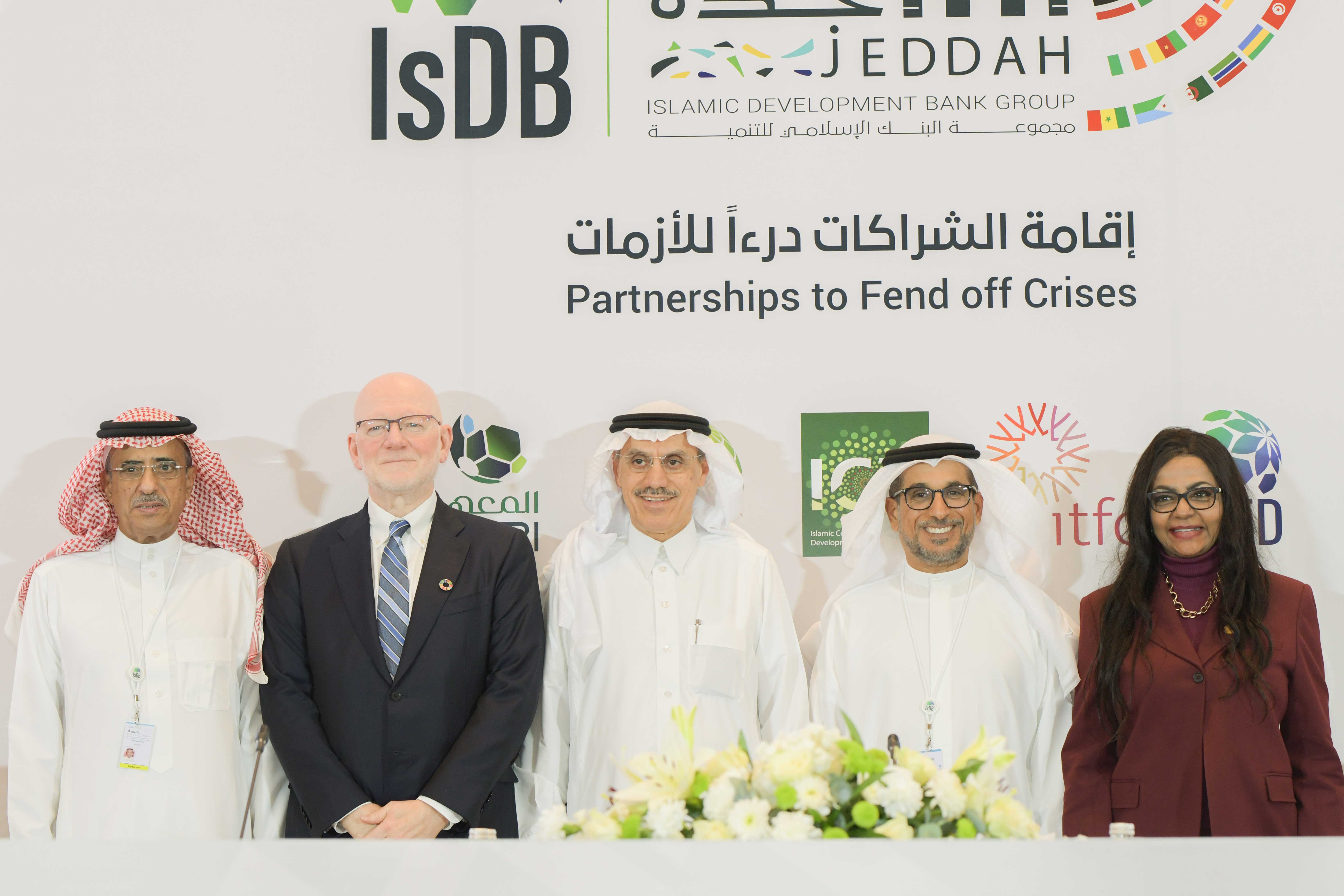 The launch event was attended by the principals of the Fund's founding partners, including His Excellency Mohamed Saif Al Suwaidi, Director General of Abu Dhabi Fund for Development (ADFD), Dr. Chris Elias, President Global Development, Bill & Melinda Gates Foundation (BMGF) and Dr. Hiba Ahmed, Director General, Islamic Solidarity Fund for Development (ISFD).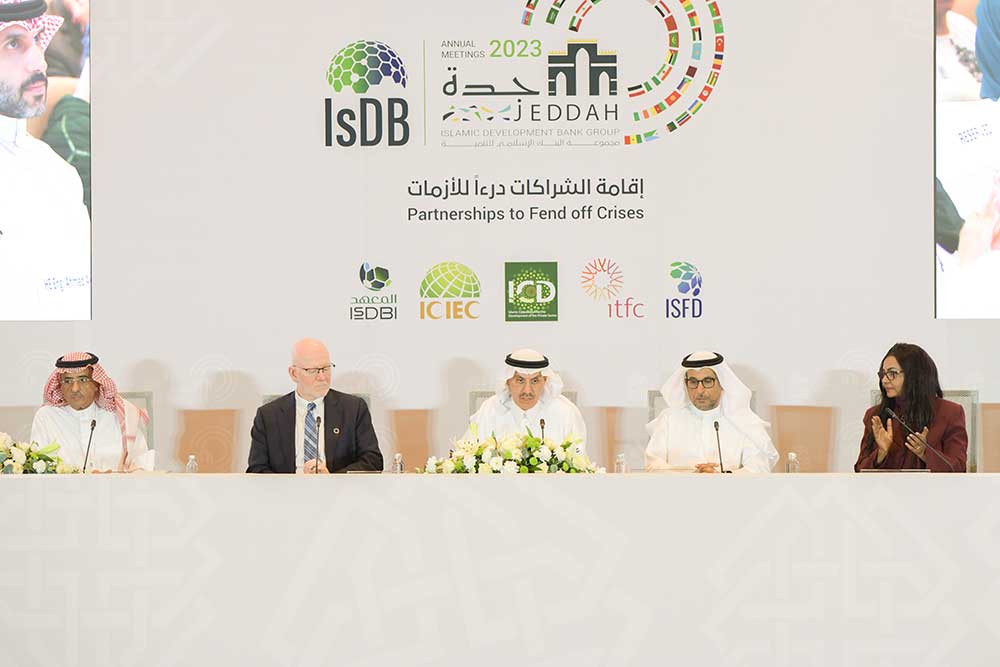 The next phase of the Fund mobilizes resources from the IsDB and from donors such as the Bill & Melinda Gates Foundation (BMGF) and the Islamic Solidarity Fund for Development (ISFD) for the next five years. The committed resources are aimed at supporting 32 member countries of the Bank to achieve 10 of the 17 Sustainable Development Goals (SDGs).
The Islamic Solidarity Fund for Development committed USD 150 million – USD 50 million as highly concessional loans and USD 100 million as temporary cash waqf, whereby, the investment returns are earmarked to LLF 2.0. Similarly, the Bill & Melinda Gates Foundation announced its commitment to pledge 20% of the total granted by donors to the LLF, up to USD 100 million.
Referring to LLF 2.0 as 'the Fund of Tomorrow', H.E. Dr. Muhammad Al Jasser, President IsDB, said, "We all know that long-term food security is not benchmarked by crop yields and strong markets alone. It is also gauged by the survival of a child, the health of a mother, and the resilience of a community. Your continued support and commitment will make it possible for millions of people to pave their way out of poverty."
He also highlighted the establishment of enhanced operational and monitoring systems under LLF 2.0 to drive more investments in ending the devastating consequences of hunger, poverty, and disease.
"It's great to see founding partners to the Lives and Livelihoods Fund committed to ensure that together we help drive economic growth across 32 IsDB member-countries," said Dr. Chris Elias, President for Global Development at the Bill & Melinda Gates Foundation. "ISFD's new contributions to the fund show their engagement to sustainable development across the world and kickstart the LLF's new round of funding. I hope their commitment will encourage our other partners to further support the LLF's critical efforts."
LLF 2.0 is a flexible and efficient way to finance government social development projects to deliver on the Sustainable Development Goals. The second phase of LLF will continue to promote equitable expansion of the fund investments and assist lower-income and lower-middle income countries to optimize their existing financial, human, and other resources for high-impact sectors. This is expected to mobilize additional in-country resources along the way and attract more co-financing. The LLF recognizes that grant funding alone isn't sufficient to meet the USD 2.4 trillion SDG financing gap. Hence, the blended finance approach multiplies available concessional financing.
Dr. Hiba Ahmed, the Director General of the ISFD stated that the evaluation of ISFD's participation in the LLF phase 1 shows that the original objectives set for its contributions are all met in a satisfactory manner. She said: "The objective of scaling-up the availability of concessional resources for poverty-focused projects in member countries, especially LDMCs, has been met through the provision of a total financing of $1,433 million under LLF 1.0, almost doubling the concessional resources for the LDMCs from IsDB Group."
She added that ISFD's contribution in LLF2 reflects "the success of LLF1.0, in terms of the results and impact in member countries, scaling up of the concessional resources of the ISFD, the performance of the portfolio, and the refinements being introduced in LLF2.0 for better portfolio performance and visibility. The LLF2.0 maintains its focus on primary healthcare, agriculture, and basic infrastructure, while women empowerment, and climate change adaptation are being introduced as cross-cutting themes, which will be addressed in all the LLF2.0 projects."
Since its creation in 2016, the Fund has invested over USD 1.4 billion in 22 IsDB member countries. Its financing is benefitting over 3 million smallholder farmers to improve their productivity and livelihoods, providing access to quality healthcare for 12.5 million women and children, and is set to provide over 7.5 million people with better water and sanitation facilities. While a major tranche of LLF 2.0 grants will be directly disbursed to country projects, key investments in technical assistance and implementation support are envisioned to maximize countries' value for money. From COVID-19 to climate change, economies are faced with unique and formidable challenges. These challenges are fast-evolving in IsDB-member countries and have long-term impacts for which LLF provides a more responsive funding mechanism, aligned with the needs and priorities of countries.
Recognizing the gender inequality trends and human-induced climate crises disproportionately impacting the most vulnerable, LLF 2.0 will make direct and robust investments to support climate action and gender mainstreaming throughout the Fund's programming and processes, while continuing the focus on health, agriculture, and social infrastructure.
LLF 2.0 was launched during the IsDB's Annual General Meetings 2023, preceded by the meeting of the Fund's Impact Committee to reaffirm the goals and commitments of the Fund.
About Abu Dhabi Fund for Development
Abu Dhabi Fund for Development (ADFD) is a leading national development-financing institution. It was established in 1971 by Sheikh Zayed bin Sultan Al Nahyan, the country's founding father, who stressed the importance of enabling developing countries to achieve their development goals. ADFD provides concessional loans for infrastructure development and manages government grants for strategic projects for partner countries to bolster their economy. It also invests in diversified financial portfolios in partner countries, in addition to making investments in the UAE to support the national economy and drive forward its sustainability agenda. ADFD leverages its strategic relations with more than 100 countries to support the UAE's private sector, facilitate exports, promote Emirati products around the globe and create investment opportunities for partner nations.
About the Bill & Melinda Gates Foundation
The Bill & Melinda Gates Foundation is a nonprofit fighting poverty, disease, and inequity around the world. For over 20 years, the Bill & Melinda Gates Foundation has been committed to tackling the greatest inequities in our world. It focuses on improving people's health and giving them the chance to lift themselves out of hunger and extreme poverty. Based in Seattle, Washington, the foundation is led by CEO Mark Suzman, under the direction of Co-chairs Bill Gates and Melinda French Gates and the board of trustees.
About Islamic Development Bank
The Islamic Development Bank is a multilateral development bank (MDB) working to improve the lives of those we serve by promoting social and economic development in member countries and Muslim communities worldwide, delivering impact at scale.
About Islamic Solidarity Fund
The Islamic Solidarity Fund for Development is dedicated to reducing poverty in its member countries by promoting pro-poor growth, emphasizing human development (especially improvements in healthcare and education), and providing financial support to enhance the productive capacity and sustainable means of income for the poor. This includes creating employment opportunities, providing market outlets especially for the rural poor, and improving basic rural and pre-urban infrastructure.
Editor's notes:
Since 2016 the Lives and Livelihoods Fund, a joint venture of partners including the Islamic Development Bank (IsDB), the Abu Dhabi Fund for Development (ADFD), the Bill and Melinda Gates Foundation (BMGF) the Islamic Development Bank (IsDB), the King Salman Humanitarian Aid and Relief Center (KS Relief) and the Qatar Fund for Development (QFFD), has played an active role in breaking down the barriers that prevent individuals, organizations and governments in the lowest income countries from obtaining the resources they need to lift themselves out of poverty.
We have therefore identified three key areas where we can make a sustainable impact for millions of people through our innovative approach to funding:
Health: Cumulatively we have funded 15 projects that strengthen primary healthcare systems, combat infectious diseases including malaria and polio and drive routine immunization. Our healthcare funding contribution has amounted to $681 million.
Agriculture: Food security is a key challenge in the countries that we support. To this end we have focused our efforts on helping smallholder farmers increase their production of livestock and staple crops through our interventions. We have supported on 17 projects across 13 countries over the years.
Basic Infrastructure: Our realization that the dearth of infrastructure across our beneficiary markets has prevented the most needful communities from connecting to resources has driven our focus on bringing electrification, sanitation, and financial inclusion to rural areas.
In line with our ambition to accelerate our impact we currently support 37 projects in 22 countries in Asia, MENA and Africa and are contributing to meeting 9 of the 17 UN SDG's by 2030.
In LLF 1.0 funding cycle we have committed to make up to $2.5bn available for our projects across healthcare, agriculture and basic infrastructure with the key purpose of helping the poorest people in our member countries lead healthier and more productive lives.
To date a total of [$1.43 billion] has been approved for 37 projects across 22 countries, supporting governments in member countries meet their national priorities.
Cookies
By browsing our website you accept our Terms and Conditions