Lives and Livelihoods Fund partners reaffirm strong partnership with the Government of Uganda and commitment to socioeconomic development of Ugandan people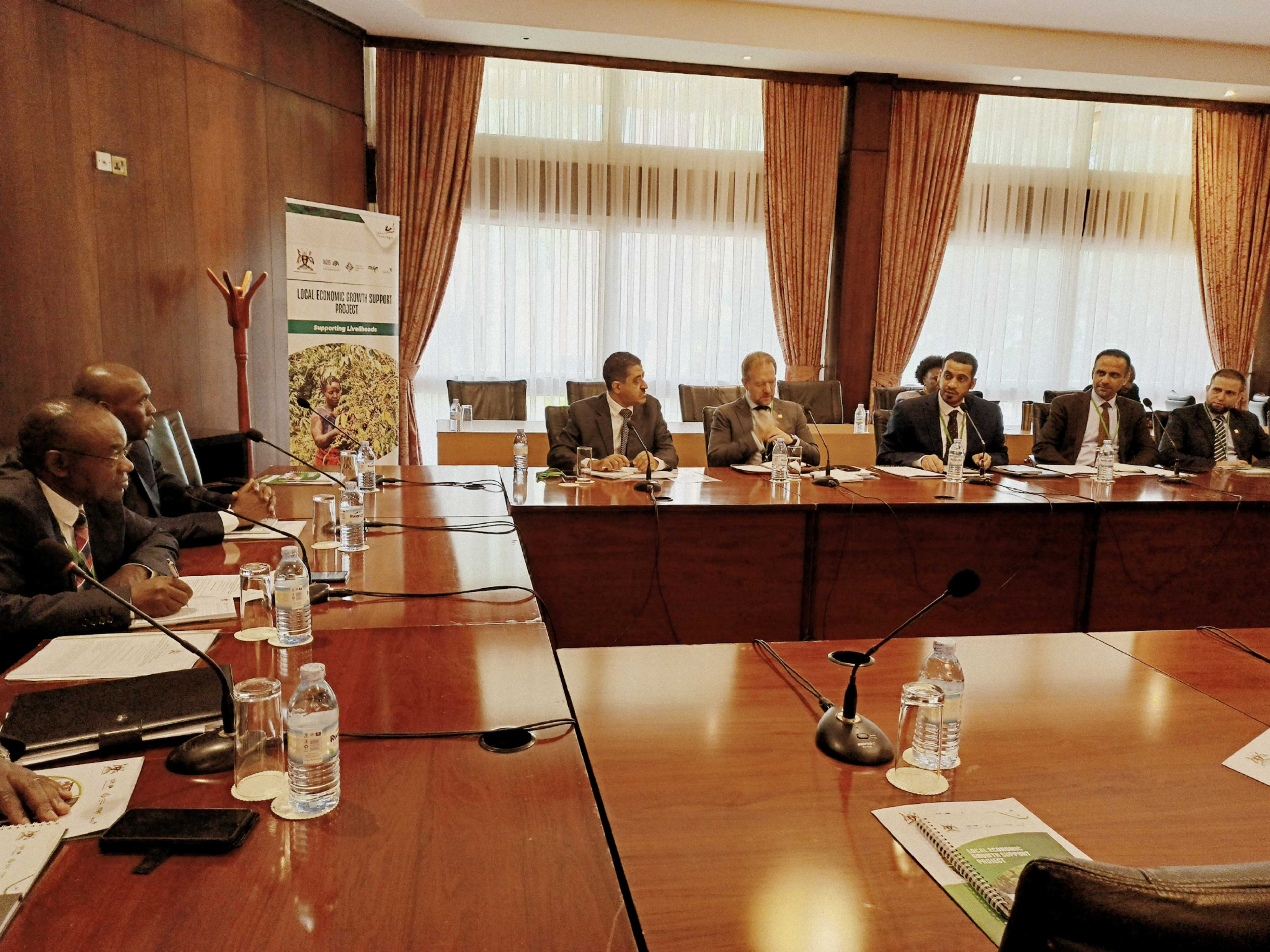 Kampala, Uganda, 14 August 2023 - A delegation representing the Lives and Livelihoods Fund met today with Ministers and Permanent Secretaries of Ministry of Local Government; Ministry of Finance, Planning and Economic Development; Ministry of Tourism and Antiquities; Ministry of Water and Environment; Ministry of Agriculture, Animal Industry and Fisheries; and Ministry of Trade, Industries and Cooperatives.
The delegation, comprising members from the Islamic Development Bank, the Abu Dhabi Fund for Development (ADFD), the Bill & Melinda Gates Foundation, the Islamic Solidarity Fund for Development (ISFD), and King Salman Humanitarian Aid and Relief Centre (KSrelief), is on a 5-day working visit to Uganda under the LLF-supported US$ 33 million initiative titled: Local Economic Growth Support (LEGS) Project, co-financed by the Government of Uganda through the Ministry of Local Government.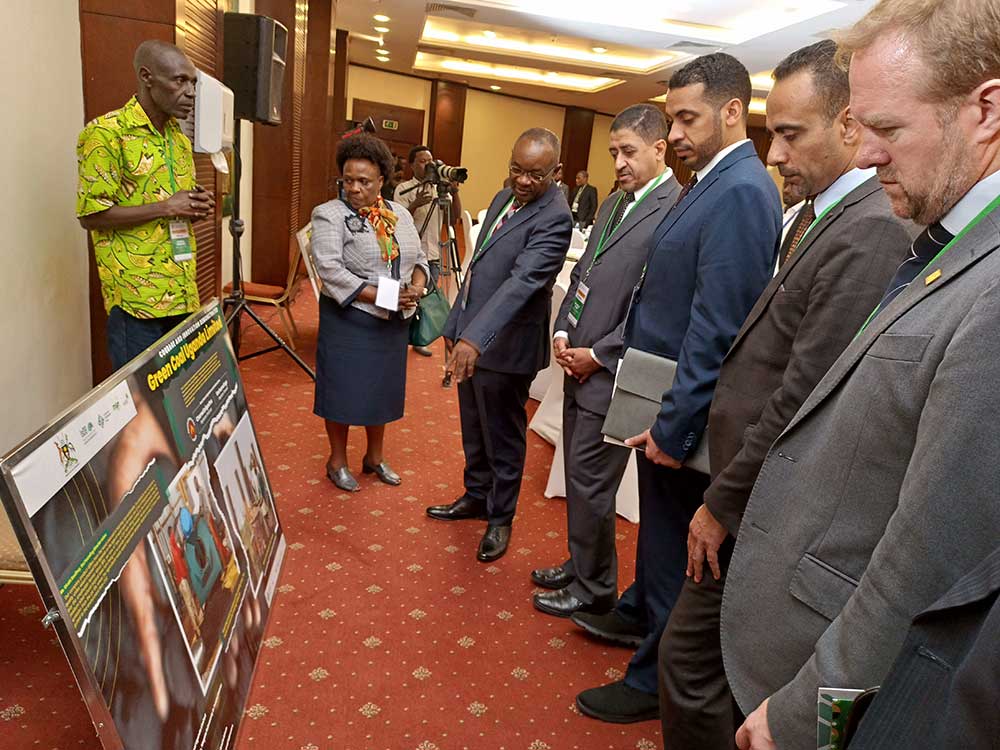 High on the agenda was a dialogue, led by, Dr. Issahaq Umar Iddrisu, on emerging economic and environmental challenges, which affect local livelihoods and agricultural yields. The meeting participants also deliberated on the need for improved access to innovative financing models and technological resources for addressing these challenges, and prioritising medium to long-term development goals such as poverty reduction, sustainable development, and climate change management through the LEGS project.
In his special message on the occasion, His Excellency Mohamed Saif Al Suwaidi, Director General of Abu Dhabi Fund for Development, said, "The success of the Local Economic Growth Support (LEGS) Project in Uganda is truly inspiring. This experience is proof of the value of sustainable development and teamwork. We are thrilled to be able to increase agricultural productivity through our strategic relationship, improve food security, and give local communities the tools they need to prosper, reflecting the vision of the UAE. Being a part of this transformative journey with LLF, whose vision of resilience and self-sustainability is becoming a reality in Uganda, gives us a sense of fulfilment."
As part of this, the delegates also participated in a high-level panel discussion and were appraised on the progress of strategic investments made by the Fund across 17 districts. The event was attended by the Hon. Minister of Local Government, Mr. Raphael Magyezi, Permanent Secretary, MoLG, Under Secretary Finance and Administration, MoLG, and Chairperson and Executive Director of Microfinance Support Centre.
Reflecting on important statistics – according to which more than 80 per cent of Ugandans live in rural areas and more than 70 per cent rely on agriculture for their livelihoods – the presentation exemplified the crucial role played by LLF in addressing some of the complex challenges in the Ugandan context. For example, most of the farmers are smallholders who often do not own their own land and lack access to seeds, water, and technical skills. They also face challenges such as lack of basic infrastructure and access to markets, climate change and gender inequalities. Furthermore, there is a lot of potential for investing in local cooperatives and for adding value to products that are locally available such as maize and rice.
The LLF, through LEGS Projects, is channelling financial and technical support to resource-strapped farmers via local governments, and providing seeds, water, rural extension, and other services. The project has adopted a market systems development approach that integrates value chain creation, rural and industrial infrastructure development, clean and renewable energy adoption, and community and institutional capacity building. Together, these are creating better economic conditions for the people and boosting resilience of rural communities.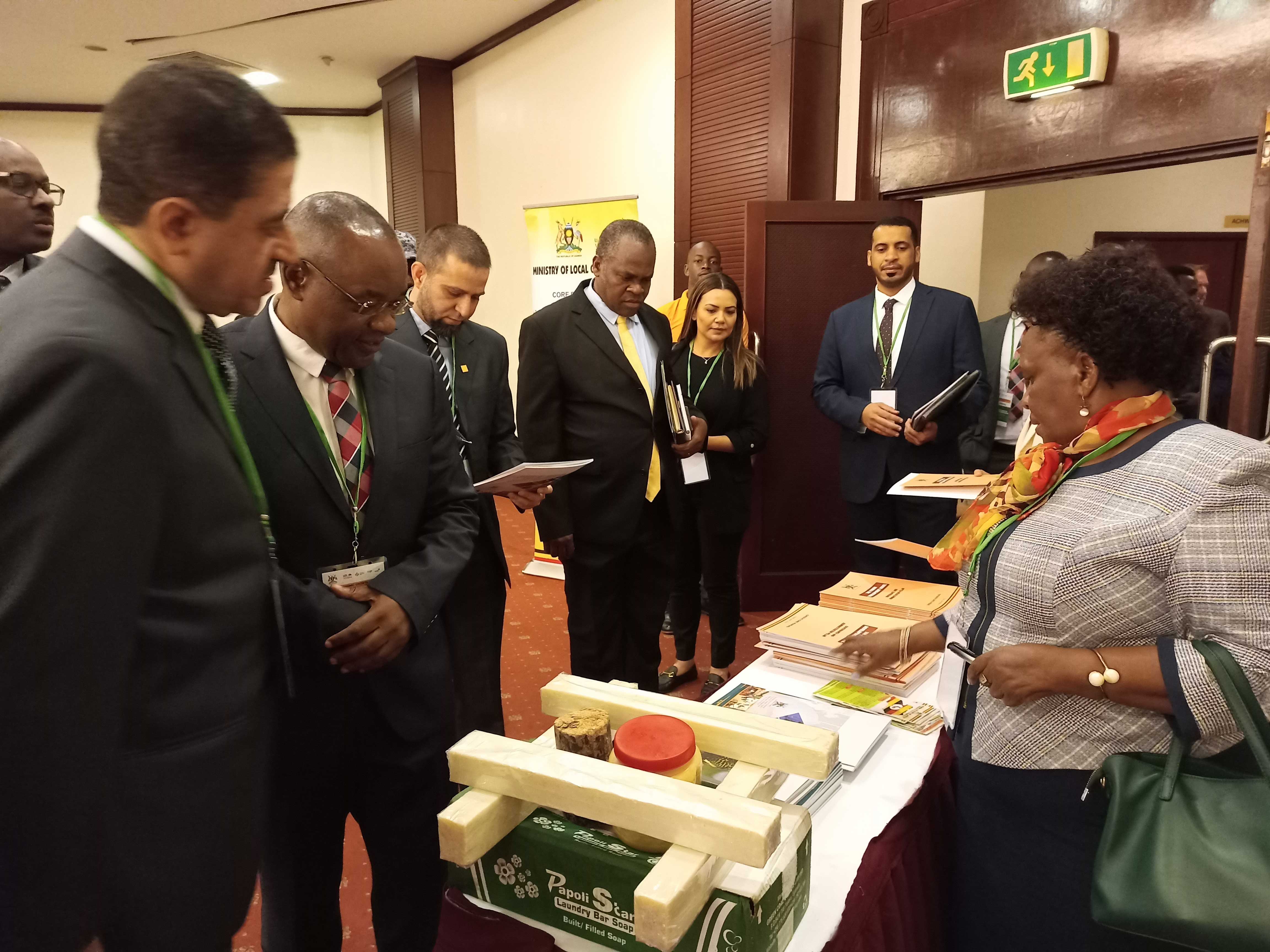 "It's great to see a project like the Local Economic Growth Support (LEGS) being delivered through the Lives and Livelihood Fund in partnership with the Ugandan government. This is the purpose of the Fund: investing in solutions that build sustainable long-term growth, particularly for populations living in rural areas. It is increasingly important to support investments in climate-smart agriculture and to improve health outcomes and equity. By empowering smallholder farmers, we can support steady progress that transforms and uplifts communities across Uganda," said James Carty, Deputy Director, Middle East and East Asia.
Speaking during the media talk, Dr. Iddrissu said, "LLF and our donors are proud to be partnering with the Government of Uganda to deepen their footprint in the development landscape of the country. LEGS is not just another project; it is a process that is harnessing resources from within and outside the community to spur economic growth in a systematic and organized manner at the local level.
In the context of Uganda, local governments are essential actors in the implementation of a national economic development agenda while pursuing local economic development policies and programs. LLF recognizes the Ministry of Local Government in undertaking complex coordination task among different strategic stakeholders and helping fast-track the Fund's achievement of food security and zero hunger in Uganda", Dr. Iddrissu further added.
During various interactions, the stakeholders agreed that the IsDB-administered Lives and Livelihoods Fund is strategically poised to facilitate the transformation of Uganda from a low-income country to a competitive upper middle-income country – a national goal enshrined in the country's Vision 2040.
Dr. Hiba Ahmed, Director General, Islamic Solidarity Fund said, "The Islamic Solidarity Fund for Development, through the Lives and Livelihoods Fund, is advancing Uganda's development journey within the context of its Vision 2040. Our investment and partnership with the Government of Uganda are helping build and diversify country's local economy to boost food security, strengthen resilience against climate crisis, improve market systems and facilitate the transition to renewable energy. These efforts are in turn supporting the country's efforts to reduce poverty and enhance the livelihoods of its population. Under the LLF-funded LEGS Project, ISFD is capitalizing on existing and new mechanisms and knowledge to give Ugandans, especially women and youth, a chance to achieve their full economic potential."
Both LLF and the Government of Uganda voiced strong commitment to a new way of working that shifts the focus from meeting short-term needs to sustainably raising productivity of farmers, growing agrifood systems and value chains, and building a robust foundation to reduce vulnerability associated with market shocks, supply chain disruptions, and climate change. IsDB is one of the key sources of external financial assistance for Uganda, advancing economic resilience with a focus on job creation, climate stewardship, and sustainable infrastructure and development.
NOTES TO EDITORS
ABOUT KEY PROJECT IMPACTS:
With the distribution of 4.7 million seedlings of high yielding coffee, tea and vanilla seeds, LEGS project is transforming subsistence farms into viable commercial operations. Incomes from these high value cash crops is helping improve the food security and welfare of many households and agribusinesses along their value chains.
Community-based Artificial Insemination (AI) services, including the procurement of an initial stock of 8,000 litres of liquid nitrogen and 4,000 straws of assorted semen, is boosting Uganda's capacity to provide genetic improvement services to local cattle farmers. About 300 farmers are now able to enhance the genetic and growth potential of their herds for increased milk and meat production.
The acquisition of 3,919 kgs of farm inputs including crop seeds, fish feeds, and fertilizers, through Shariah-compliant microfinance facility has enabled farmers to invest in on- and off-farm enterprises, thus ensuring agricultural productivity and food security.
Two milk collection and cooling centres are helping farmers increase shelf life of their milk, thus facilitating access to premium markets through group marketing. The centres will enable the storage and marketing of about 40,000 litres of milk daily.
Completion of two multi-purpose bulking centres and storage facilities. Through the storage facilities, small holder farmers can save about 40% in post-harvest loses that comes with poor storage and are able to access formal marketing and add value to their products for increased income.
Construction of 11 Community Access roads, across 10 districts totalling 157 kilometres to link production areas to markets.
11 off-farm post-harvest processing units for coffee, oilseed and rice are in progress on 11 project sites. The processing units will add value to the farm primary products, thereby attracting higher prices and incomes for farmers.
Construction of three livestock markets and eight market sheds. This will enable proper marketing of farm produce and livestock in a safe, clean, and client-centered environment. Consequently, more buyers will be attracted and overall traded boosted, which in turn will drive increased production for food and income security.
Construction of distribution network and pipeline for 10 boreholes, equipped with solar panels.
ABOUT THE LIVES AND LIVELIHOODS FUND
The Lives and Livelihoods Fund (LLF) is a US$ 2.5 billion development initiative launched in 2016 and funded by an unprecedented global coalition including the Abu Dhabi Fund for Development (ADFD), the Bill & Melinda Gates Foundation (BMGF), the Islamic Development Bank (IsDB), the Islamic Solidarity Fund for Development (ISFD), King Salman Humanitarian Aid and Relief Centre (KSrelief), and the Qatar Fund for Development (QFFD). As the largest development initiative in the Middle East, its goal is to lift the poorest out of poverty across 33 IsDB member countries by addressing nine Sustainable Development Goals (SDGs) through projects in health, agriculture, and basic infrastructure.
ABOUT OUR DONORS
The Abu Dhabi Fund for Development (ADFD) is a leading national development-financing institution. It was established in 1971 by Sheikh Zayed bin Sultan Al Nahyan, the country's founding father, who stressed the importance of enabling developing countries to achieve their development goals. ADFD provides concessional loans for infrastructure development and manages government grants for strategic projects for partner countries to bolster their economy. It also invests in diversified financial portfolios in partner countries, in addition to making investments in the UAE to support the national economy and drive forward its sustainability agenda. ADFD leverages its strategic relations with more than 100 countries to support the UAE's private sector, facilitate exports, promote Emirati products around the globe and create investment opportunities for partner nations.
The Islamic Development Bank (IsDB) is the AAA-rated multilateral development bank (MDB) of the Global South since 1975. It is working to improve the lives of those it serves by promoting social and economic development in its 57 member countries and Muslim communities worldwide, delivering impact at scale.
The Islamic Solidarity Fund for Development (ISFD) is dedicated to reducing poverty in its member countries by promoting pro-poor growth, emphasizing human capital development (especially improvements in healthcare and education), and support economic empowerment especially for women and youth by providing concessional financial resources to enhance the productive capacity and sustainable means of income for the poor.
King Salman Humanitarian Aid and Relief Centre (KSrelief) is the humanitarian arm of the government of the Kingdom of Saudi Arabia, and its mission is to manage and coordinate the provision of all of the Kingdom's external aid. Since its inception in 2015, KSrelief has implemented thousands of projects with its many humanitarian partners, with particular focus on the most vulnerable groups, especially women and children. KSrelief, on behalf of the Kingdom, has helped to alleviate the suffering of millions of people in need worldwide.
The Qatar Fund for Development (QFFD) is a public institution committed, on behalf of the state of Qatar, to implementing foreign aid projects. Since 2012, QFFD has been providing aid to many countries in accordance with international cooperation goals of the Qatar National Vision 2030, and in line with best practices and standards. QFFD's main goal is to achieve inclusive and sustainable development by addressing global priority issues in education, health, and economic empowerment
Cookies
By browsing our website you accept our Terms and Conditions