LLF invites the cooperation of Ministry of Agriculture to develop an integrated agricultural system in the Highland area of Indonesia
Jakarta, February 28, 2023: A high level donor delegation from the Lives and Livelihoods Fund (LLF) met with the Minister of Agriculture, Syahrul Yasin Limpo and other dignitaries to cover a wide-ranging bilateral cooperation agenda in transforming the agriculture sector in selected highland areas of Indonesia.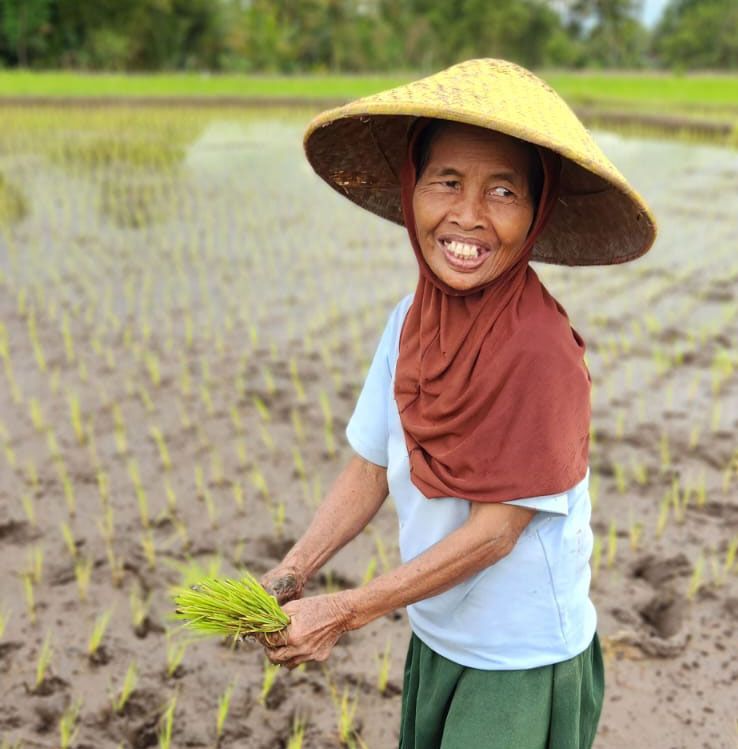 The Lives and Livelihoods Fund partners, including the IsDB, ISFD and LLF Donors, have contributed USD 66 million in the Government of Indonesia's flagship project, titled, 'Development of Integrated Farming Systems in Upland Areas'. The UPLAND Project, an integrated agricultural development program is also co-financed by the United Nations International Fund for Agricultural Development (IFAD) in conjunction with the Government of Indonesia (GoI), and has a mandate to reach out to 120,000 households in 14 districts across seven provinces over five years.
The delegation, comprising members from donor agencies like the Abu Dhabi Fund for Development (ADFD), the Bill and Melinda Gates Foundation, Islamic Development Bank (IsDB) and the Islamic Solidarity Fund for Development (ISFD), King Salman Humanitarian Aid and Relief (KSRelief), and Qatar Foundation Fund for Development (QFFD), have committed to deepen its partnership with the government of Indonesia and all relevant stakeholders to maximize food security and scale up strategic investments.
In a joint statement, Mr. Syahrul Yasin Limpo, Minister of Agriculture, stated that he "appreciates how our ongoing partnership under the UPLAND Project is evolving in support of Indonesia's food sovereignty and food security goals" as outlined in the country's strategic plan. The Minister went on to say that "together we can demonstrate fast that our partnership is being translated into tangible actions and outcomes."
Mr. Limpo also added that land expansion and use of cutting-edge technology for the development of specific agricultural commodities is a linchpin of the national food self-sufficiency program.
The UPLAND Project is an all-encompassing agricultural activity, ranging from on-farm to off-farm development, making significant strides since its inception in 2018. In 2022, UPLAND farmers have succeeded in exporting 20 tons of pepper from Purbalingga Regency to Japan and it has been agreed that this export will continue until 2024 with a total target of 300 tons. The project has institutionalized 36 farmer corporations, equipping them with various post-harvest equipment and management methods based on participatory farmer development.
In the 2022 Global Food Security Index, Indonesia has scored 81.4 points, which is an impressive start to the transformation of the country's diverse agricultural landscape. "We want to ramp up this momentum and provide Indonesian farmers with integrated and site-specific support for the development of viable value chains in selected agricultural clusters. Improving natural resources-based livelihoods for small landholders is critical to the success of the LLF-funded UPLAND project," said Mr. Salah Jelassi, Resident Representative at the Islamic Development Bank (IsDB) Group Regional Hub in Indonesia.
Recognizing the business model of UPLAND Project, Mr. Adel Al Hosani, Director of Operation Department at ADFD, said, "We are proud to be a part of the Lives and Livelihoods Fund partnership and the UPLAND Project in Indonesia. Abu Dhabi Fund for Development is committed to supporting the Government of Indonesia in achieving its food sovereignty and security goals. Our continued partnership with the government and all stakeholders involved will ensure that we can create tangible outcomes and make a significant impact on the lives of the people of Indonesia."
"As for this specific project, it is a testimony to our collective wisdom and commitment in designing an intervention that is more responsive to market demand and farmers' needs, especially women farmers who are hardest hit in the wake of the crises."
The UPLAND Project is prioritizing female farmers in the fertile plateaus and increasing their participation in homestead farming activities, so that going forward they can transition into medium-scale enterprises. Special activities around sustainable food gardens have been designed for women farmers targeting 6,000 - 7,500 female farmers. Speaking at the conclusion of a delegation-level meeting, Mr. James Carty, Head of Middle East and East Asia, the Gates Foundation said, "The Bill and Melinda Gates Foundation, through the Lives and Livelihoods Fund, is piloting and promoting scalable interventions that spur agricultural investments, multiply incomes for agricultural workers, and increase high quality and value-added Indonesian agricultural products for global markets."
"The efforts of the Ministry of Agriculture Indonesia are of paramount importance to make farming more productive and profitable for smallholder farmers. This will provide catalytic support to all stakeholders in the agri value chains," said Eng. Ahmed Al Baizi, Assistant Supervisor General of Operations and Programs, KS Relief.
Reflecting on the strategic contours of the project, Mr. Fahad Al Dehaimi, International Aid Officer, QFFD added, "This collaboration is expected to increase the productive capacity of poor rural communities, increase the income of poor rural communities from market participation, and increase government's capacity for agricultural modernization."
The UPLAND Project is designed to promote climate-smart agriculture and value chains in the targeted project locations through meaningful public-private partnership. "The project is well-aligned with Islamic Solidarity Fund's ambitions of improving agriculture and agricultural practices in IsDB member countries, while contributing significantly to our objectives of alleviating poverty and achieving shared prosperity," said, Dr. Hiba Ahmed, Director General, ISFD.
The delegation will also visit select project sites in the highland areas to observe the interventions, procedures and structures put in place to enhance indigenous farming systems, and bolster value chains of strategic commodities such as rice. During the visit, the delegation will speak with women farmers and discuss their role in homestead agricultural activities to boost subsistence farming and diversify family income.
NOTES TO EDITORS:
The UPLAND Project financing totals USD 151.4 million, consisting of: (i) an LLF/IsDB Financing of USD 66 million under the Lives and Livelihood Fund (LLF) that is established by the bank and its development partners to provide concessional financing to low and middle-income countries.
(ii) An Islamic Solidarity Fund for Development (ISFD Loan of USD 4 million (iii) an IsDB grant of USD 500,000; (iv) an IFAD loan of USD 50 million (v) a contribution by GoI of USD 17.09 million, and; (vi) expected beneficiary contributions of USD 14.03 million
The Lives and Livelihoods Fund (LLF) is a US$ 2.5 billion development initiative launched in 2016 and funded by an unprecedented global coalition including the Abu Dhabi Fund for Development (ADFD), the Bill & Melinda Gates Foundation (BMGF), the Islamic Development Bank (IsDB), the Islamic Solidarity Fund for Development (ISFD), the King Salman Humanitarian Aid and Relief Centre (KSRelief), and the Qatar Fund for Development (QFFD). As the largest development initiative in the Middle East, its goal is to lift the poorest out of poverty across 33 IsDB member countries by addressing 9 Sustainable Development Goals (SDGs) through projects in health, agriculture, and basic infrastructure.
Abu Dhabi Fund for Development (ADFD) is a leading national development-financing institution. It was established in 1971 by Sheikh Zayed bin Sultan Al Nahyan, the country's founding father, who stressed the importance of enabling developing countries to achieve their development goals. ADFD provides concessional loans for infrastructure development and manages government grants for strategic projects for partner countries to bolster their economy. It also invests in diversified financial portfolios in partner countries, in addition to making investments in the UAE to support the national economy and drive forward its sustainability agenda. ADFD leverages its strategic relations with more than 100 countries to support the UAE's private sector, facilitate exports, promote Emirati products around the globe and create investment opportunities for partner nations.
The Bill & Melinda Gates Foundation focuses on areas of greatest need across the world, offering the opportunity to dramatically improve the quality of life for billions of people. It builds partnerships that bring together resources, expertise, and vision, and works with the best organizations around the globe to identify issues, find answers, and drive change.
The Islamic Development Bank is a multilateral development bank (MDB) working to improve the lives of those we serve by promoting social and economic development in member countries and Muslim communities worldwide, delivering impact at scale.
The Islamic Solidarity Fund for Development is dedicated to reducing poverty in its member countries by promoting pro-poor growth, emphasizing human development (especially improvements in healthcare and education), and providing financial support to enhance the productive capacity and sustainable means of income for the poor. This includes creating employment opportunities, providing market outlets especially for the rural poor, and improving basic rural and pre-urban infrastructure.
The King Salman Humanitarian Aid and Relief Centre (KSRelief) is dedicated to coordinating and providing international relief to crisis-affected communities, alleviating suffering, and providing the essentials to allow people everywhere to live a safe and decent life.
The Qatar Fund for Development (QFFD) is a public institution committed, on behalf of the state of Qatar, to implementing foreign aid projects. Since 2012, QFFD has been providing aid to many countries in accordance with international cooperation goals of the Qatar National Vision 2030, and in line with best practices and standards. QFFD's main goal is to achieve inclusive and sustainable development by addressing global priority issues in education, health, and economic empowerment.
Cookies
By browsing our website you accept our Terms and Conditions